Irish Setters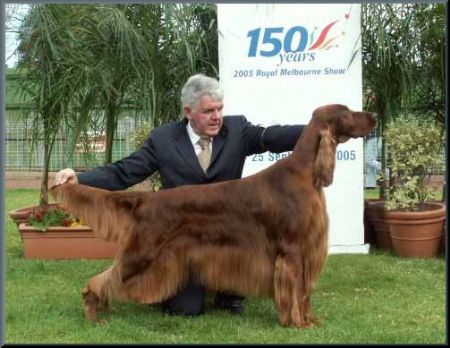 Irish Setters bred at EIREANNMADA have succeeded at the highest level in the showring throughout Australia and overseas.BEST IN SHOW MELBOURNE ROYAL is just one of the extensive list of prestigious awards including most successful exhibitor/breeder on numerous occasions at the main Irish Breed Specialty Shows.
The progeny of the Eireannmada bred stud dogs bitches continue to dominate the Australia show scene. Internationally they feature as key elements in the pedigrees of succesful Australian exports and litter sired by frozen semen.
In the USA "Roddy" Aust Grand & US Ch.Eireannmada Fortuitous became the most successful Australian bred Irish Setter to be shown in that country. It is hoped American breeders will utilise his bloodlines.
Frozen semen is available from him and other proven sires to approved bitches.
At Eireannmada many of the outstanding bitches have never been campaigned but they continue to remain the keystone of the outstanding breeding program.
Those such as Sequoia, Pastina and Spring,were all campaigned at a time when breed entries were at their highest levels and are acknowledged as outstanding bitches of their eras.
I take enormous pride in the fact that the key foundation bitch Aust CH Ballina of Irish Flame Imp Sth Africa now features in the pedigrees throughout the world.
Eireannmada Kennels are proudly sponsored by Royal Canin.
Contact Details
Greg Browne
Geelong, VIC, Australia
Phone : +61404482737
Email :
[email protected]